After buying beef, wash it and put a little wine on the beef to soak for 5-10 minutes and then wash again, the smell of beef is reduced. This is how to cook delicious beef sauce.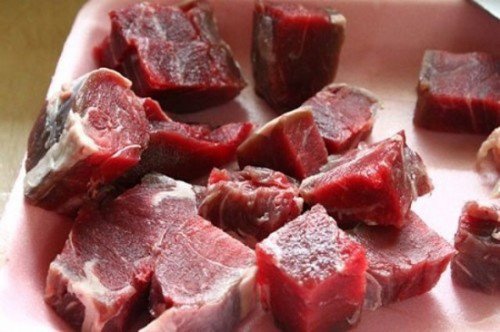 To cook beef with wine sauce, cut beef into small square pieces. Illustration
Beef is nutritious and has many ways to cook, often used as stir-fries, stews and steaks. But perhaps the beef with wine sauce and tender stewed beef in the mouth plus the special aroma of spices, wine makes you irresistible, especially when it's cold.
How to cook beef with wine sauce is not difficult but to taste it requires secret. If you want to learn how to cook delicious beef with wine sauce, you can refer to the standard recipe from chef Richard Nguyen. This method of cooking is simple, not time-consuming and will help your family to have a delicious meal again.
Preparation materials:
- 1kg beef (you should choose beef or ribbed pieces will taste better)
- 4 small potatoes
- 2 garlic bulbs
- 2 tomatoes
- 2 small bowls of wine
- 4 tablespoons of tomato sauce (or you can use seeded tomatoes)
- 2 small ginger
- 2 carrots
- Cinnamon + anise + salt + pepper + seasoning
- 1 package of five flavors
- 2 tbsp sugar
- Coriander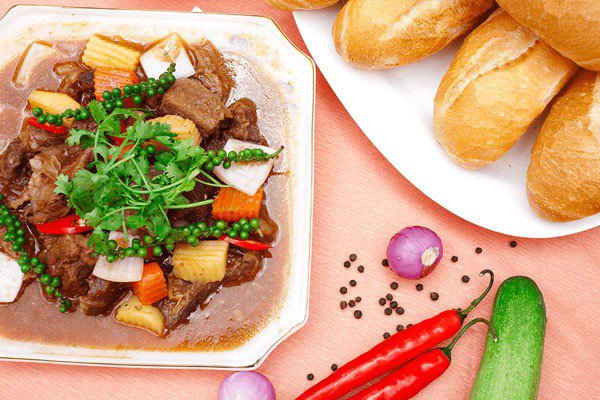 Beef with wine sauce served with hot rice or bread is delicious. Photo: Internet
Making:
After buying beef, wash the meat with cold water. Next, you put a little wine on beef to soak 5-10 minutes and then remove, rinse.
This is the secret of cooking delicious beef with wine sauce, helping the beef to cook when fragrant, not smelling and more flavorful. In addition to wine, you can also add a few slices of fresh ginger or boil beef over boiling water that will wash it. The smell of beef is reduced so that you can have a delicious and attractive dish.
After washing the beef, cut the beef into small cubes, then marinate the beef with fish sauce, ½ teaspoon salt, some pepper and ginger, minced garlic and five spice flavors, 1 teaspoon sugar, wine, cinnamon .
Once you have mixed the seasonings, put the beef in the refrigerator compartment for 40-50 minutes to allow the beef to infuse the seasoning.
Next, you place a large pot on the stove, pouring in 2 tablespoons of cooking oil. Turn on the heat and heat the oil, add the garlic to the pineapple, then pour the diced tomatoes into the pan until the tomatoes are soft, add the marinated beef and stir-fry for hunting. You need to note that you must remove the tomato seeds to make the wine sauce more beautiful.
Next, you add the tomato sauce and boiling water to cover the surface of the meat, adjust the heat and simmer until the meat is soft. The secret to cooking delicious beef with wine sauce is when boiling the beef, let the heat simmer, the pieces of beef will be soft, the sauce will not be drawn.
Finally, after the beef is soft, if your family likes to eat potatoes or carrots, cut the pieces of potato, carrots to taste and then put in the pot and cook with them until cooked. It should be careful not to stir many times when adding potatoes, carrots because it can cause these 2 ingredients to be broken, making the dish less attractive.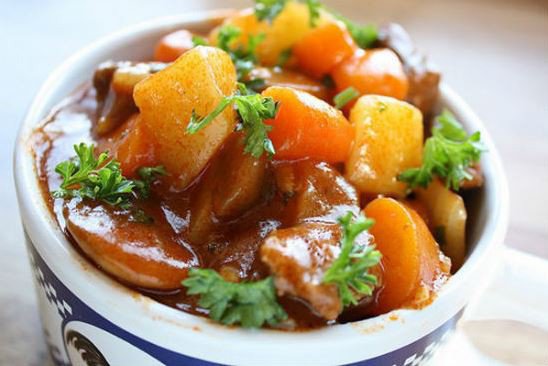 Scoop beef into wine, sprinkle with a little pepper, chili if you like spicy food, then coriander or onion. This dish you can eat with hot rice, bread is deliciously attractive.
Note: To cook delicious and fragrant wine beef, use red wine instead of white wine, because red wine smells a lot more. Besides, you can replace fresh tomatoes with tomato sauce to make wine sauce somewhat appealing.
In addition, the five flavors of spices should only be given a little, if accidentally missed for many flavors will make the flavor of meat and vegetables lost.