The weather today is really ideal for families to gather together to enjoy hot dishes.
1. Boiled pork leg
Material:
- Beef leg boneless
- Seasoning, salt, fish sauce, pepper, garlic, chili, sugar
- Strings and ropes
Making:
- Pork feet washed, seasoned with salt, seasoning, pepper. Use the string to wrap the legs tightly in a cylindrical shape that is fixed.
- For rolled rolls into the pot boiled. Add 2 shallots and a sprig of ginger. Bring to the boil, then reduce to a simmer for 40-50 minutes. When cooked, remove the string, you can put the meat in the refrigerator for 30-60 minutes to make the meat firmer.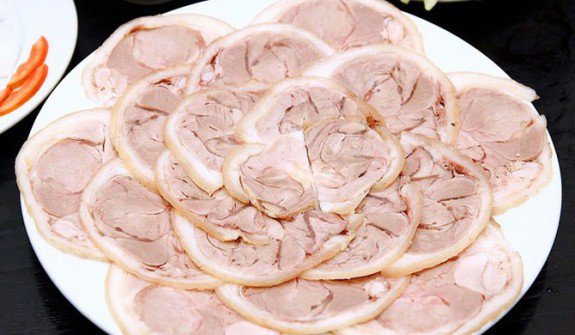 2. Braised dried shiitake chicken
- Half the chicken chopped
- 12 dried shiitakes
- Cooking oil, ginger, garlic, carrots, salt, soy sauce, wine, red peppers, green peppers, star anise, scallions.
Making:
- Blanch the chicken over boiling water for about 2 minutes, then remove and drain.
- For cooking oil in a pan, non-fragrant garlic, chili, ginger. Then the chicken on the island a few minutes. Add star anise, soy sauce, wine, carrots, mushrooms and stir fry together for a few minutes.
- Add ginseng chicken face water and simmer for 30 minutes.
- Finally, sprinkle with scallions.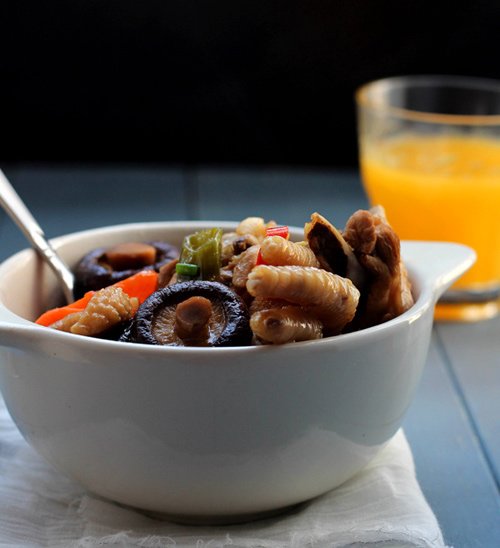 3. Stir-fried cabbage of Thai style
Material
- Cabbage
- Ground beef
- Tomatoes, roasted peanuts, turmeric powder
- Fish sauce, salt, seasoning, pepper, cooking oil
- Scallions, garlic
Making:
- Thinly sliced ​​cabbage soaked with salt for 15-20 minutes. Then rinse.
- Ground beef mixed with salt, cooking oil, pepper marinated for 30 minutes
- Tomatoes add areca zone, finely chopped scallions.
- Non-aromatic garlic in a pan of oil, pour tomatoes into sautéed, stir fry for about 3 minutes.
- Next, stir fry the beef well and then pour the vegetables into the pan to cook. Tasting spices to taste.
- Cover the pot, boil for about 5 minutes, sprinkle with finely chopped scallions, roast peanuts on top and then serve on a plate.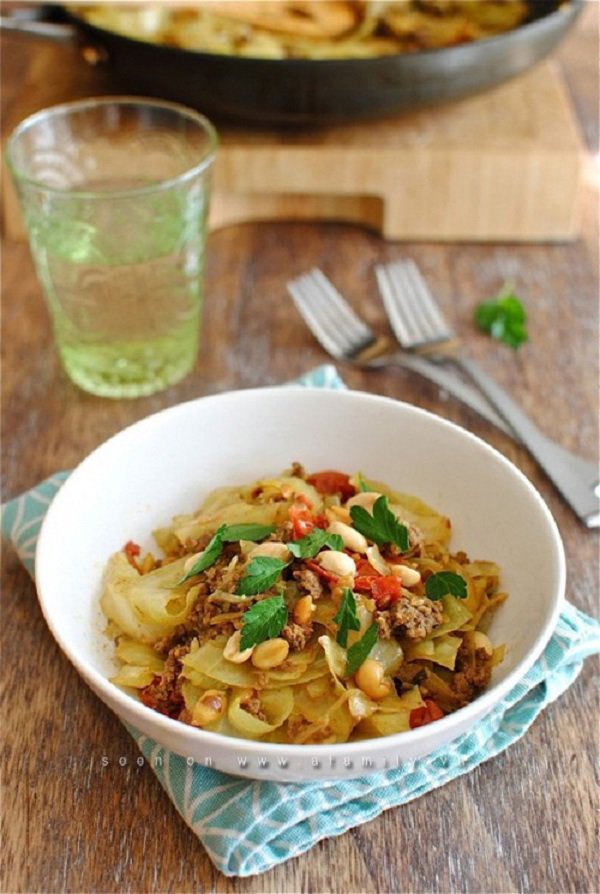 4. Kimchi vegetarian soup
Material:
- Kimchi
- Tofu
- Mushrooms, olive oil, green onions, sesame, garlic cloves, brown sugar, salt, paprika
Making:
- Heat olive oil in the pot and sesame seeds. When sesame is fragrant, add kimchi to the island for about 4 minutes.
- Add mushrooms, chili powder, green onions, garlic and stir well.
- Add water to taste and boil. Season with spices to taste and drop the tofu notes.
- Simmer for another 15 minutes and then turn off the heat